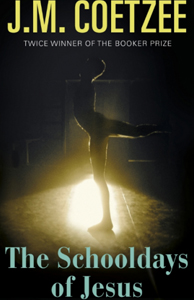 It's a quick read, made so by the spare, simple prose. But don't be deceived by the apparent simplicity of the prose – it's a veritable minefield of allegory.
The story focuses on a young boy, Davíd, and his adoptive parents, Simón and Inés. One isn't sure how it happened but it seems that Simón took on responsibility for the child and then chose Inés to mother him, and Inés agreed. Simón and Inés don't appear to be in a relationship; in fact at a point in the book he moves out of the 'family' home into his own lodgings. They all seem to live in some socialistic town (Estrella) where they never seem to want for food or money (not that it's in abundance – it just seems it isn't an issue).
Throughout the book we are told that Davíd is extremely intelligent but there is never evidence of that – in fact he seems to have learning problems. He is an opinionated brat who never listens to his elders. He is indulged by Simón and Inés who are unable to instil discipline in the boy.
Davíd goes to a dance school where they also have scholarly instruction, but it is most unconventional – for instance, arithmetic takes the form of 'dancing the numbers down'.
Dmitri is a very dark character in the book and he is infatuated with Ana Magdalena, the dancing teacher and owner of the school with her husband, Senor Arroyo. Dmitri is the janitor of the museum next to the school but leaves his job to help out at the school. He shows 'dirty pictures' to the boys, according to Davíd.
There is a scene where the school takes the children on an outing to the beach. Simón and Inés go looking for them and when they find them they are all naked – children and teachers, all frolicking together. Simón then strips off to join them and be like them. Inés refuses to do so. The resultant discussion naked Simón has with the naked Arroyos is somewhat surreal.
Dmitri subsequently rapes and murders Ana. He has a trial and is committed to the psychiatric wing of the local hospital. Davíd helps him to escape and Davíd believes Dmitri to be his friend. I am experiencing the same sense of frustration and irritation with the characters in this book as I did with those in Disgrace. Simón's constant goodness and pedantic lecturing to and explanations to Davíd are tedious. Inés is just a disagreeable person. Davíd is irritating. But unlike Disgrace, this book doesn't have any redeeming features, in my opinion.
The tone of speaking is old-fashioned and formal. The author makes use of a stylistic tic whenever Simón says or does something – it is detailed as "He, Simón, said …" or "… said he, Simón" reminiscent of the children's game 'Simon Says'.
This book is a sequel to The Childhood of Jesus. I hope Coetzee doesn't bring out another one.
For positive opinions of the book have a look at Alex Preston's review in The Guardian, and Duncan White's review in The Telegraph.