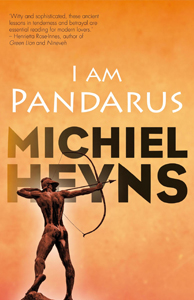 I started this book with trepidation as I have never been a scholar of medieval literature and I know very little about Greek mythology, but I was soon caught up in the mercurial storytelling of Michiel Heyns.
This is a story in two parts – it moves between modern-day London and the ancient city of Troy during its ten-year siege by the Greeks. If that sounds far-fetched, then prepare yourself for the fact that Pandarus, the mythical and heroic Trojan warrior, is the protagonist in both eras.
The modern-day Pandarus approaches the narrator of the book (a publisher) in Halfway to Heaven, a gay bar in London. The narrator's lover has just left him for a young Greek man and said narrator is intrigued by the amount that the tall, lean, pony-tailed stranger knows about him. The stranger introduces himself saying "I am Pandarus" and goes on to say that he is irked by the unflattering way he has been portrayed in literature and that he has written a book telling the true story about himself and his part in the relationship of Troilus and Criseyde. Pandarus leaves the first part of his story behind for our narrator (and us) to read.
And so the book moves between the modern and the ancient as Pandarus and the narrator meet each Friday and the subsequent instalments of Pandarus's manuscript are revealed.
In Pandarus's story, set in the city of Troy, he is the narrator and tells the story with wry humour.
Pandarus is the best friend of Troilus and the uncle of Criseyde. Troilus is a prince and younger brother to Hector, the eldest son of King Priam and the general commanding the Trojan army. These four characters form the nub of the story that takes place in ancient Troy. The narrative is told in contemporary language and is witty and clever.
The story moves through the futility of war to the glories of lovers united to the tragedy of perfidy and death. By the end of the story, Pandarus has thoroughly vindicated himself and he should henceforth be seen as an honourable friend and lover.
Don't be put off by the five pages of characters at the beginning of the book (human, divine and canine). To an extent it is tongue-in- cheek and needn't be read unless you are getting confused and want to see how someone fits in. I read it when I had finished the book, as a way of reconjuring the characters into my head so that I could re-enjoy them.
I am Pandarus is a great read and an enjoyable way of getting to know about the Trojan war (much easier than reading Chaucer or Shakespeare).
Michiel Heyns was Professor of English at Stellenbosch University and taught Chaucer's version of Troilus and Criseyde for some years.
Who is to say that Heyns's version is not the correct one?